A short drive reaps big rewards......NC Getaways
Two small towns, "both alike in dignity," In fair Carolina, "where we lay our scene..."
Highway 211 begins where the Piedmont meets the "Sandhills" as it intersects Highway 220 in Candor. It ends quite abruptly in Southport, NC at the mouth of the Cape Fear River as it greets the Atlantic. As two small North Carolina towns experiencing huge growth and growing pains, both are top retirement destinations for "snow birds." Their size and demographics are remarkably similar. If you take Highway 211 from here in Southport, 130 miles up the road, a quick jaunt on Highway 5 will bring you into the Village of Pinehurst, to a land of golf and its fabled Pinehurst #2, towering pines, top-notch equestrian facilities, fine dining, and legendary Southern Charm.


I had the opportunity on Sunday to get a taste of the best local food offerings in the Pinehurst-Southern Pines region. The Chamber of Commerce held its 1st annual Culinary Showcase at the Fair Barn. This fundraiser gave 16 local chefs from the areas' finest restaurants show off their talents. One of these chefs just happens to be my future son-in-law, and the new Head Chef at the recently renovated and reopened "One Fifty West" at The Jefferson Inn in Southern Pines. I had a chance to get a quick peek at The Jefferson while I was in town. It was dark and muscular and truly stunning. I'm hoping to return for a Fall getaway while the outdoor bar and courtyard are still open.
Meanwhile, back at the Fair Barn, we dug right in and had more than our fill, sampling the many delectable offerings in three categories, appetizers, entrees, and desserts. My boy Chris, a young talented chef, with a keen sense of culinary adventure, entered two dishes. First, was a rum shrimp flambé over lump crab meat and coconut risotto. His second entry, a dessert, was an eye-popping and groan-inspiring "Roasted Pumpkin Napoleon."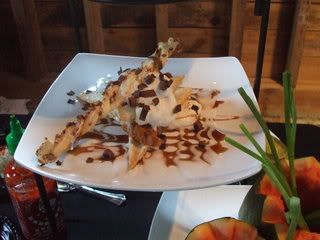 The first annual event, deemed an immediate success, secured its future. Four hundred tickets were sold at $50 a piece and all participants lazily departed with that well-worn feeling of just the right amount of food, wine, and song. I have a feeling we'll be back next year.
Southport has a busy calendar of its own the next several weekends. This weekend is the Silver Coast Winery's Purple Feet Festival. Also, The Trial of the Big Bad Wolf, brought to you by the Stagestruck Players of Brunswick Little Theatre performs this weekend only at Odell Williamson Auditorium. Coming up next weekend is the Fall Gardener's Showcase at Franklin Square Park which is also the location for the 10th Annual Strut Your Mutt dog show and walk on the 29th. October starts off with a bang with the 29th Annual US Open King Mackerel Tournament with prizes topping over $100,000.
One could argue which area, Southport in Brunswick County or Pinehurst in Moore, is the biggest golf mecca, or who has the best restaurants, or which is tops in Community offerings. One thing that can't be challenged, however, is that the waters around Southport offer some of the finest fishing anywhere on the East Coast. And October and November are as good as it gets. So hurry on down while the gettin' is good!